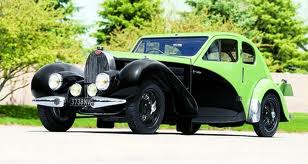 The Bugatti company and, most particularly, the company's founder Ettore Bugatti are venerable fixtures in the world of automobile engineering.
From the very beginning, Bugatti's unique constructions and high aesthetic standards have enthralled the public and spawned a virtually boundless passion in those fortunate enough to own such automotive works of art.
The origins of this outstanding company's history are intrinsically tied to that classic automotive era of the interwar years, and the image of Bugatti in this period was influenced most significantly by the sport of motor racing. Not only the company drivers but numerous amateurs, too, secured hundreds of Bugatti victories. The private drivers, however, were of a kind that would be unimaginable in modern-day Formula 1 races. Many industrialists, affluent publishers, and a large number of noblemen as well as the occasional gigolo cultivated motor racing as a costly and very hazardous hobby.
Safety standards – a matter of course today – were unheard of then. The daredevil motorists, some of them women, drove without helmets, with open tops, and the windshields didn't even offer protection against dirt and rain. Engine breakdowns, axle fractures, and tyre punctures occurred frequently and often led to severe accidents. But for the European and American socialites, these dangers were part of the sport's fascination: cars in a seemingly untouchable leading position could fail at any moment, upsetting the entire field. And one should keep in mind that leads in those days weren't measured in milliseconds but could amount to many minutes in longer races.
The proud owners and the motley crew of those drivers, for whom love and pain, victory and death were always just a heartbeat apart, were the source of many unforgettable tales. As we look back today, these extraordinary people seem to be characters out of romantic novels – and yet they were a very real, if slightly eccentric, part of our modern times.
BUGATTI Veyron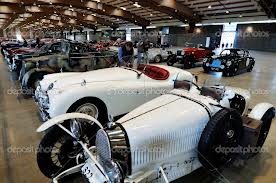 With its 16-cylinder four-wheel drive, the Bugatti Veyron 16.4*) may well be the most sophisticated production vehicle of all times. 
Most of the components tucked beneath its hood are ingenious innovations that were formerly only deemed possible by visionaries like Ferdinand Piëch.
Boasting a maximum speed of more than 400 km per hour, the Veyron is unmatched in the super sports category. It offers a total of 736 kW (1,001 HP), and its ample power reserves even at high speeds are the fabric of dreams for luxury-class limousines: for a constant speed of 250 km/h, the Veyron only needs 270-280 HP. This means that the seven-gear clutch transmission works with a torque of up to 1,250 Newton meters. The Electronic Stability Program ensures the necessary flexibility and maneuverability at any speed. The Veyron reaches velocities that would literally lift the car off the ground – if it weren't for its ingenious aerodynamics, which keeps it firmly on the road even at full speed. Adjusting the back spoiler, reducing ground clearance, opening and closing the lids – it all adds to the perfect balance between propulsion and downforce. Such a super sports car may not seem to be brought to a halt easily, but the Veyron's ceramic brakes slow it down faster than it can accelerate. While it takes this exceptional car only 2.5 seconds to go from 0 to 100 km/h, it needs even less time – a mere 2.3 seconds – to come to a standstill from 100 (reference point). To reduce the risk of injuries in accidents, Bugatti had a Formula 1 safety concept adapted for the Veyron. All these technical details combine to make the Veyron a truly exceptional super sports car.
Technical Characteristics
Cylinder capacity
7993 cm³
Power output
736 KW (1001 hp) at 6000 U/min
Max. torque
1250 Nm at 2200–5500 U/min
Gearbox
7 Gear DSG
Top speed
407 km/h
Acceleration
0–100 km/h
2.5 sec
0–200 km/h
7.3 sec
0–300 km/h
16.7 sec
CO2 Emission
In town
960 g/km
Extra-Urban
350 g/km
Combined
574 g/km
Fuel type
Super lead free 98 RON/ROZ
Fuel Consumption
In town
40.4 l
Out of town
14.7 l
Combined
24.1 l
Gearbox: 7 Gear DSG, fuel consumption combined: 24.9l/100km, fuel consumption in town: 41.9l/100km, fuel consumption out of town: 15.6l/100km, CO2 emission combined: 596g/km, Efficiency Class: G
Annual tax for this vehicle €1132
Energy costs at a mileage of 20,000 km:
Fuel costs (Super Plus) at a fuel price of 1.624 EUR/billing unit €8087.52
Created on: 11/30/2011
The values were calculated using the prescribed measurement method (§ 2, numbers 5, 6, 6 per car energy labeling ordinance in its current version).CO2 emissions, which result from the production and provision of fuel or other energy sources are not taken into account in the determination of CO2 emissions pursuant to Directive 1999/94/EC. The figures do not refer to a specific vehicle and are not part of the offer, but only serve the purpose of comparing different vehicle types. The fuel consumption and CO2 emissions of a vehicle not only depend on the efficient utilization of the fuel by the vehicle, but also on driving style and other non-technical factors. CO2 is the main greenhouse gas responsible for global warming. Notice pursuant to Directive 1999/94/EC of each current valid version: For more information on official fuel consumption and the specific official CO2 emissions of new passenger cars can be acquired from the "Guide for Fuel Economy, CO2 Emissions and Power Consumption of New Passenger Cars" available at all sales outlets and at DAT German Automobil Treuhand GmbH, Hellmuth-Hirth-Strasse 1, D-73760 Ostfildern – available free of charge or at www.dat.de. Efficiency classes of vehicles are evaluated in terms of CO2 emissions by means of the vehicle's empty weight.